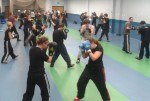 We would like to inform you that the current CARISMA beginners course which started on Thursday 18 September 2014, had great level of interest and attracted 19 beginners.  As usual it is likely that some of them will not come back;  however if you are interested in joining us you can still do it by coming along on Tuesday 23 and attend the last 3 classes (e.g. 23, 25, 30).
Please notice: you must join the beginners' course just if you are a total beginner. Any previous experience in striking martial arts (kickboxing, muai thai, karate, tae kwon do, kung fu, etc…) is appreciated and it will allow you to join without going through the beginners' course. Please get in touch with us if in doubt.
If you'd like to check our prices please look at this page. Please notice that Kelsey Kerridge charges a day entry to every non member entering their premises.
We would like to gather numbers to be prepared so it would be great if you leave, confidentially, your name in this Doddle poll. Please make sure to turn up before 6:15pm at Kelsey Kerridge as there might be a long queue.