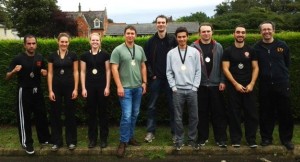 On Sunday 15 September 8 CARISMA fighters attended the Suffolk Combat event organised by Pete Dunnett of CKA and managed to secure 3 first places.
Here a short description of each fight:
Kostas Ziovas, member of the Cambridge University Kickboxing Society – CUKBS – on his third fight, was the first fighter from CARISMA being on the ring and despite a good combination of alternated punches and kicks was defeated by just one point.
Alex Kravetz, also at his third fight, managed to deliver some good combinations of punches and kick and securing the first win of the day albeit by one point.
Natasha Taylor, on her second fight, was definitely affected by nerves and not performing as we have seen her in the past.  Facing a very aggressive and pushing opponent she managed to use a variety of accurate punches and kicks to score repeatedly and secure the second win of the day.
Nina Street, at her first fight and with just 3 months of experience in kickboxing, managed to deliver a very good fight with variety of combinations of effective punches and kicks but she was defeated by a slightly more experienced opponent.
Lukasz Siobisz, at his first fight, showed a good repertoire of kicks and punches but was defeated by a slightly more skilled opponent who managed to score more.
Max Larkinson, at his first fight, delivered a great show with very good combinations of well alternated punches and kicks, interleaved with great foot work and accurate timing.  He secured and obvious third first for the day.
Jarek Rzepecki, at his second official fight despite his long experience in martial arts, delivered a good fight with the broadest variety of techniques seen on the day.  Despite what it looked as an obvious win he was defeated by judges' decision.
Raz Jabary, member of CUKBS – on his second fight and following a recent injury, delivered a very good fight with some powerful combinations of kicks and punches.  Despite the initial recommendations of strictly enforced Light Contact style the referee allowed a level of contact that was way out of our expectations and Raz, somehow confused, kept fighting with a level of pressure that was just not enough to keep his opponent at bay.
A successful career in fighting sport must start somewhere and small regional tournaments are the right environment for building experience from scratch, while ensuring safety and reasonably fair judging.  We thank Pete Dunnett and his team for another well delivered event.  Videos of the fights will be available soon.