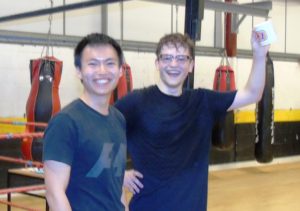 Seven brave men and two brave women stepped into the ring on Monday evening to participate in the first CARISMA Cup. The Cup was an opportunity for beginners to show off the results of months of dedicated training, and gain invaluable experience in a safe and controlled light contact sparring match. For most, this was their very first taste of a kickboxing match.
There were six matches in total, of 3 rounds of 1 minute each. The final result is shown below:
| | | | | |
| --- | --- | --- | --- | --- |
| Gender | Name | Vs. | Name | Winner |
| Male | Robertas Mareikis | Vs. | Robbie Jarvis | Robertas |
| Male | Andy Brinkworth | Vs. | Matt Hunt | Matt |
| Female | Rachel Lawrence | Vs. | Steph Reikine | Rachel |
| Male | Ben Bishop | Vs. | Robbie Jarvis | Robbie |
| Male | Richard Gordon | Vs. | Dan Whittear | Dan |
| Male | Robertas Mareikis | Vs. | Matt Hunt | Robertas |
Two prizes were available on the night. The first was Fight of the Night, awarded by the instructors, which Robertas took home after two excellent performances, showing both composure and technique. The second was Most Improved Fighter, nominated by the more experienced Carisma members who supported the fighters in preparation for the event, which was awarded to Dan (in the picture above on the right) in recognition of his hard work and dedication in training for the event.
Competition is a core component of kickboxing, and the most visible one. It is never easy to step into the ring to compete, and additionally, opportunities can be difficult to find. Every fighter who stepped up to the challenge on Monday evening can be proud of their performance in the ring. The technique was impressive throughout, and each competitor fought with heart. A special thank you to those who helped the fighters to prepare for this event, and stood in their corner while they fought. In addition, the event would have been impossible without the help of all the instructors, and those who helped to referee and judge the matches.  Last but not least a very big thanks you and well done to Eugene Ho (pictured above on the left) who organised and managed the whole event.