Rebecca Strange, former member and instructor at CARISMA moved to Italy in 2007 after spending five years training and teaching with the club.
Rebecca, 32, managed to continue her training after moving to Milan and kept progressing in her skills until she was recently offered to fight in her first full bout that we won last Saturday 4 June.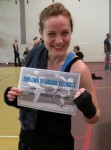 Given her high standard of proficiency she was allowed to keep her original grade of 1st Kyu gained from CARISMA in 2006 and she also was offered to grade for her 1st Dan black belt that she completed over the same week end.
Rebecca was very happy for the results and she commented "I am obviously really pleased to have won my first fight here in Milan, particularly since my opponent put up a great fight. The black belt the following day was really the icing on the cake and something I have been looking forward to for a long time. However, the EU championships will be the really big test and I certainly have a lot of training to do before then!".
Massimo Gaetani, Head Coach and founder of CARISMA added "I am very proud the complete recognition that one of our martial artist managed to receive in a different school and country: Rebecca was a promising student with lots of determination and natural talent when I first saw her in 2002 and I am delighted of her great achievements".   Rebecca added "although I have been focussing my training more on the full-contact style recently, Massimo Gaetani and Chris Home from CARISMA take a very large part of the credit for having got me this far. No other club I've trained at seems to concentrate so much on the essential technical kicking skills."
The whole of the CARISMA club will be happy to celebrate Rebecca's achievement the very next time she'll be visiting Cambridge that we hope will be soon.