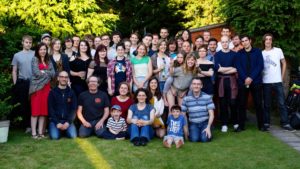 This year our club achieved its adulthood: on Saturday 10 June we celebrated the 18th anniversary for CARISMA. I would like to personally thank the over 46 people that attended the celebration.
Eighteen years is a long time, longer than some of our youngest members have been alive and long enough to have seen tens of other clubs in Cambridge opening and closing down.  I am very proud about the longevity and health of the club which year after year keeps attracting new members, teach them quality martial arts and train them to improve the technique, fitness and skills.
As usual it was great seeing at the BBQ a mix of people of all ages and levels of seniority within the club.  We had people who joined us during the latest beginners' course last month all the way to senior members and instructors.  We even had several people that moved on and no longer train at CARISMA but still come back to Cambridge to join our parties.
Starting at 3pm the party went on till the early hours of Sunday morning, 3:20am to be precise.  Special thanks to Liz, Andrea, Anna and a few others that kindly helped with setup, cooking and catering. This BBQ managed to beat most records to date, which are all worth mentioning:
Largest number of attendees with 46 people
Longest lasting party, over 12 hours
Largest amount of food eaten, with about 24Kg of meat, fish and halloumi, several Kg of bread, veggies, dips and whatever else, including 3 large party chocolate cakes and a couple of tubs of double cream
Largest amount of drinks consumed with about 60 litres of various beers and lagers, 15 bottles of wines and about 2 litres of palinka
unspecified amounts of soft drinks, juices and water were also consumed
I am already looking forward to the 19th anniversary next year 🙂